This week's prompt at Chimera 66 is the word "fanatic."
ℑ
My homeboyz call me a fanatic
Cause when I see that girl it's automatic
I get ecstatic; act all erratic
Like a jammed-up semiautomatic.
I ain't nothin' but that baby girl's addict.
Now I'm off to swim the Adriatic
In hopes she'll find me charismatic.
If not, it's gonna be traumatic
Cause I'm dramatic—can't be pragmatic
When her perfume smells so aromatic—
I get fanatic…
This week's word prompt for the Mutant 750 challenge is "wave." The visual prompt is the Johnny Cash video below, titled, "Hurt." Click here to learn more about Grammar Ghoul Press and our other writing challenges.
∇
School was out and summer vacation was in full swing for the Limbourg boys, Sebastian and Françoise. Mom and Dad were safely at work, which left the boys to fend for themselves. This particular day, they chose to do their fending in the backyard beneath a willow tree.
After assuming the Lotus yoga position, Sebastian selected two long blades of grass and began tying them in a Zeppelin Bend knot.
"Dude?" He ventured.  "I don't get it."
"Don't get what?" Françoise glanced up from his zither.
"You and that zither, Dude." Sebastian explained. "I mean…why did you pick such a… goofy instrument?
"Goofy? Whaddaya mean?" For the first time, Françoise felt the sting of zither-criticism. "Wait, Sebo. Listen for a minute."
With that, Françoise commenced to pluck the zither strings with wild-ass abandon —losing himself in the sublime rapture of (perceived) melody.
Sebastian tried. He really tried to contain himself, but after nearly three minutes of "sublimely raptured" cacophony, he could take no more.
"Bwahahahah! Stop! Frankie! You're killing me…" Sebastian waved his hands in a frenzy, as if he were swatting a swarm of invisible mosquitoes.
"What is it, Sebo?!" Fueled by befuddlement and irritation, Françoise strummed the last note and glared at his brother. "You've ruined my crescendo!"
"Oh, man!" Sebastian struggled to catch his breath.  "Sorry, Dude. But that thing sounds even goofier than it looks! And then, it was like…all of a sudden  we were in Charlie Brown. Y'know, you're Schroeder and I'm Lucy….?"
"Seriously?" Françoise failed to see the humor. "You, O brother of mine, are a philistine!
Feigning contemplation, he responded,"Phyllis Stein…you mean that goofy 8th-grader who thinks she's Kim Kardashian but looks like Honey Boo-Boo? Bwahahaha!"
"Forget it, Dude," Françoise shook his head. "Anyway, could you tell what song it was?"
"Um mm…I Walk the Line!" Sebastian beamed. "Johnny Cash."
"Are you kidding me? That was Paranoid…as in Ozzy Osborne & Sack Blabbath? Dork…"
"Of course!" Sebastian slapped his forehead like they do in V8® commercials. "I almost said that."
"Pfffft!" Françoise flicked his zither pick across the lawn. "I'll never get the hang o' this."
The brothers sat in anomalous silence until a grin began to tug at the corners of Sebastian's mouth.
"Be right back!" He scrambled to his feet and sprinted toward the house.
**
"What's all that junk?" Françoise watched his brother trundle toward him carrying a set of bongo drums, amplifiers and extension cords.
"Electric bongo drums are not junk!" Sebastian corrected. "Gram sent 'em to me for Christmas, remember?"
"I thought Mom ditched 'em at the Salvation Army."
"She did, but I bought 'em back." Sebastian got busy hooking-up the equipment. "I knew they'd come in handy one day!"
Françoise rolled his eyes  "Sebo, why?"
"Check, check, check one; Check two, check, check…" Sebastian droned. "Gotta do the sound check, Dude!"
"For what? Like a concert?"
"Dude, don't you get it? We're a band, now," Sebastian explained. "And what do bands do?"
"Practice?"
And thus, a group that would become more influential than The Beatles—The Wild-Ass Philistines—was born.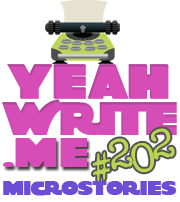 Mom told me not to,
but when Jimmy handed me a firecracker
I took it.
Other kids were holding them.
I wanted to be cool.
Mom told me not to and
my world smoldered
to black.
My guide dog is cool, though.